Amplifier and DSP in one package
Two keys to unlocking great sound in a car stereo system are serious power and extensive control — and this amp's got them both. For power, AudioControl's D-4.800 4-channel amplifier generates 125 watts RMS per channel, so it'll drive even the most demanding aftermarket speakers with plenty of headroom to spare. You could also bridge the D-4.800 to drive a couple subwoofers with 400 watts RMS each.
Computer-controlled digital signal processing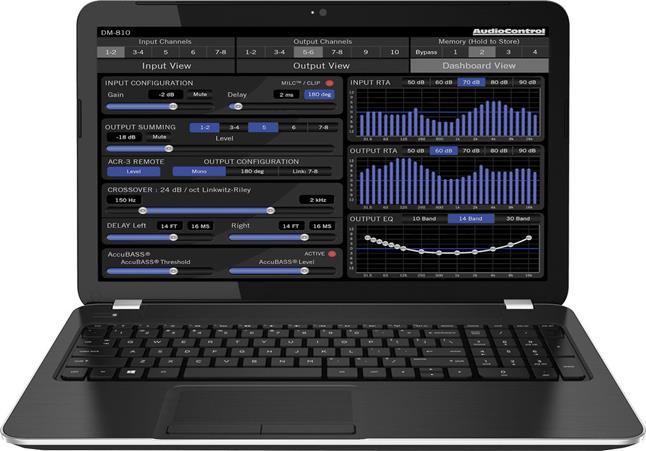 Smart-User DSP tuning software on a laptop (DM-810 version shown)
You won't find any knobs on the D-4.800 — you make adjustments and save settings via your laptop (PC or Mac). AudioControl's Smart-User DSP software package includes 12 or 24 dB/octave Linkwitz-Riley crossovers, 30-band equalizers, parametric filters, time delay/alignment for inputs and outputs, phase correction, AccuBass™ bass correction, and real-time analyzers (RTA) for the inputs and outputs so you can visually confirm the improvements in the sound.
It's made to work with a factory radio
Six active speaker-level inputs allow you to connect this amp to almost any factory system, even ones that have separate pre-filtered, time-aligned, and amplified signals going to separate factory speakers and tweeters. The D-4.800 sums them into one smooth, unified signal for you to balance, align, and tune for your better-sounding aftermarket speakers. AudioControl's Great Turn On (GTO™) signal-sensing circuitry turns the amp on automatically whenever it senses an input, so you won't have to run a separate turn-on lead back to the receiver.
Convenient features
Onboard LEDs indicate optimized signal flow for inputs and outputs, plus give you a warning when a source is too loud and causing distortion. An optional ACR-3 wired remote controller lets you select sources, control levels, and recall presets from your front seat. An optional Bluetooth® adapter lets you stream music and control the digital processing wirelessly from your compatible portable device.
AudioControl has paired our award winning amplifier technology with our powerful Matrix DSP into the D-4.800. AudioControl's DM Smart DSP app allows complete control over 30 bands of EQ signal delay, phase correction and well known features like patented Accubass, GTO, Signal Sense and MILC, plus an integrated input and output RTA
SPECIFICATIONS
Product highlights:
Featured in our article: Best 4-channel car amplifiers for 2022
4-channel car amplifier with digital signal processing
125 watts RMS x 4 at 4 ohms (200 watts RMS x 4 at 2 ohms)
400 watts RMS x 2 bridged at 4 ohms (4-ohm stable in bridged mode)
all controls and adjustments made with AudioControl Smart-User DSP app on your laptop (PC or Mac) via USB connection
optional AC-BT25 Bluetooth adapter available
variable high- and low-pass filters (20-20,000 Hz at 12 or 24 dB/octave)
AccuBASS circuitry for improved bass response
30-band graphic EQ, parametric filters, phase correction
time delay/alignment for inputs and outputs
RTA (real-time analyzers) for inputs and outputs
Other Features:
optiojnal ACR-3 remote controls level and recalls presets
MILC™ (Maximum Input Level Control) LED optimization and clip indicators
6 speaker-level inputs (summable)
GTO signal-sensing turn-on
preamp inputs and outputs
fuse rating: 40A x 2
4-gauge power and ground leads recommended — wiring and hardware not included with amplifier
dimensions: 8-7/8"W x 2"H x 7-3/4"D
warranty: 5 years
What's in the box:
AudioControl D-4.800 owner's manual
Amplifier
2.5 mm Allen wrench
119" USB cable (Type-A on one end / Micro-B on other end)