FEATURES AND BENEFITS
Just Listen
Silver plated signal carriers, effective high quality shielding and impedance matched cordage and plugs all combine to create audible sonic improvements when compared to the competition
Triple Layer Electromagnetic Shielding
Through the use of factory controlled geometry and low permittivity foamed polyethylene dielectrics, Reference Digital Audio 40 maintains the correct characteristic impedance to match the transmission line between digital source and sink precisely. This makes for a very low jitter signal transfer which, listening tests have shown, leads to clearly audible sonic improvements.
75 Ohm Impedance matched DigilocTM RCA plugs
Domestic S/PDIF interfaces use the traditional RCA phono connector which is not impedance matched to the 75 Ohm transmission line. This causes measurable insertion loss and an increase in jitter due to signal reflections at the connector boundaries. The all new Digiloc RCA plugs are more closely impedance matched than ever before and measurements have shown, reduce insertion loss by up to 1.2 dB compared to ordinary RCA plugs.
Triple Layer Electromagnetic Shielding
A dual layer closely woven 99.999% OFC shield braid and aluminum mylar wrap with 100% coverage comprise a triple layer electromagnetic shield coaxially spaced around the central signal carrier within a foamed polyethylene dielectric. This ensures that interference signals induced by nearby high current noise sources do not contribute to higher signal jitter than would otherwise be the case. By the same token the shielding prevents unwanted voltage induced interference escaping the cable which might affect nearby analogue signal carriers.
Reference Digital Audio 40 utilizes a carefully engineered geometry to achieve the precise characteristic impedance required for the maximum transfer of S/PDIF signals. Silver plated conductors deliver a low resistance path for high frequencies and QED "Digiloc" plugs more closely match the cable's characteristic impedance, reducing return loss by up to 1dB when compared to conventional RCA plugs. This ensures optimal signal transfer and improved micro-timing of the audio signal.
SPECIFICATIONS
Silver Plated 99.999% Oxygen Free Copper central conductor
Extruded foamed Polyethylene (PE) dielectric - for sonic purity and low return loss
Double 99.999% OFC braid plus Al/Mylar wrap for 100% electromagnetic screening coverage
Twin leaf 24c Gold plated QED 'Digiloc™' RCA plugs featuring high purity copper contacts, hollow center pin and low eddy current design
75 ohm coaxial design with closely matched locking plug for reduced return loss
This QED cable comes with a two year warranty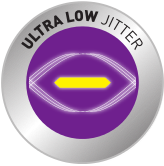 Ultra Low Jitter
Jitter is the undesired deviation from true periodicity of an assumed periodic signal in electronics and telecommunications, often in relation to a reference clock source. A cable displaying ultra low jitter has been measured at typically 30ps.
WHAT THIS CABLE IS USED FOR
CONNECT YOUR:
Blu-ray Player
CD Player


TO YOUR:
AV Amplifier
DAC
Digital Pre-Amp