When combined with the VENOM PS8 power distributor and several of the VENOM Series power cords it provides the most affordable, performance oriented power-distribution system in the industry!
The VENOM Defender features Shunyata's exclusive MPDA (multi phase differential array) which is a 30 element filter network that targets specific noise generated by electronic power supplies. Previously available only in Shunyata's critically acclaimed HYDRA Series power distributors, it dramatically reduces the noise floor improving musical enjoyment.
Plug and play convenience
System wide transient protection
Advanced MPDA noise reduction
L.E.D. fault indicator
User replaceable
TECHNOLOGY
MPDA FILTER
The MPDA is a sophisticated circuit that reduces power-line noise without the negative effects normally associated with conventional transformer and large capacitor design approaches.
SURGE SUPPRESSION
The VENOM Defender includes 22,000 Amps of transient protection.
L.E.D. FAULT
Red L.E.D. fault indicator that displays a status of the internal protection circuitry. Plug and Play convenience couldn't be easier to use. Simply plug it in to the VENOM PS8 or the wall outlet where the audio system is connected.
CopperCONN™ Connectors
The CopperCONN™ connectors are electrical power connectors designed by Shunyata scientist Caelin Gabriel. Their unique construction and performance attributes are unique in the world of high-performance parts, found only in Shunyata Research products.
The Venom Defender is small and compact; has no chassis, no outlets and no power cord. You simply plug it into the wall outlet and it provides noise reduction and transient protection to your system. The Venom Defender module was created by Shunyata Research to offer high-performance plug-in protection and advanced noise reduction technology for Shunyata Research's Venom PS10 power distributor.
*Please note that all Shunyata products are made to order and require a two week turn around time to ship.
 
SPECIFICATIONS
Input/Output Voltage:
Max Voltage (US): 125VAC unregulated
Max Voltage (Asia): 230VAC unregulated

Over-Current Protection:
Internally protected

Sockets / Connectors:
US NEMA 5-15P

Current Ratings:
Max current: N/A

Transient Suppression:
NextGEN TMOV Transient Protection
20,000 Amps @ 8/50μs

Construction:
Polycarbonate / TPE

Dimensions:
Length: 4.30 inches
Diameter: 1.48 inches
Weight: 3.4 oz
OUR ASSURANCES
RELIABILITY
Over more than 2 decades, the reliability and durability of Shunyata Research products has become a legendary attribute of the brand. Shunyata products are completely non-reactive and run cool to the touch. They do not hum, vibrate, buzz, or generate heat and do not require any ventilation. Despite heavy-use applications in studios, medical labs, and home environments, Shunyata Research products maintain an almost zero failure rate.
QUALITY
In an era of products that are mass-produced, Shunyata Research invests in training career craftsman who build our products by hand at our factory in Poulsbo, Washington. The exceptional fit, finish, and attention to detail has become a hallmark trait of Shunyata Research products going back to its inception in 1998. Shunyata Research has been building some of the finest power and cable products in the industry for more than twenty years. The commitment to building durable products that are designed to last a lifetime elevates our products to the top of their class.
SAFETY
Safety and quality control is job one at Shunyata Research. Before anything leaves the factory, we test each and every product thoroughly and carefully for safety and quality. This explains the long-term success of Shunyata Research products in the professional recording, medical, scientific, and consumer industries. Shunyata Research's impeccable product safety and reliability track record for the past 23 years speaks for itself.
NO HUM — NO BUZZ — NO HEAT
LIMITED LIFETIME WARRANTY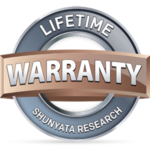 The unparalleled craftsmanship and build quality of Shunyata Research products is backed by a limited lifetime warranty. This demonstrates our commitment to building the finest products on the planet and providing exceptional customer support.

VALID ONLY IN THE US AND CANADA