The Sunfire name is synonymous with big bass from elegant and impossibly small cabinets. But did you know that the same unconventional thinking that spirits our subwoofer design influences our in-wall and on-wall speaker design as well?
So the two side-firing woofers enhance the acoustic space. With them firing to the sides, this introduces the room itself as part of the instrument of sound. The Sunfire engineers crafted the ideal ribbon tweeter to focus the high frequency sound straight forward. The ribbon itself is a remarkable piece of engineering; it can handle the output of a 400 watt amp without distortion even at 115 dB output!

Design
Tweeter: Dual 6" Cinema Ribbons
Woofer: Single 4.5"
Configuration: 2-Way
High Back-emf Design
Intelligent Tweeter Shaping
Enclosure Type: Sealed
Connections
Binding Posts: Gold Plated, Spring
Miscellaneous
Finish: Black Gloss
Grille: Black Cloth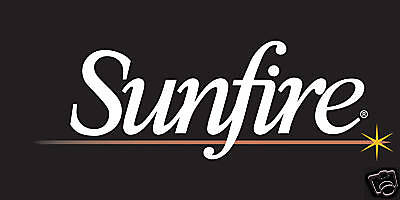 Sunfire CRM2BIP
The CRM-2BIP is the only on-wall ribbon bi-pole available today and features a long list of true, XT Series performance features. 
Same Bark...More Bite
Since their introduction, the Cinema Ribbon line has forever changed the notion that small boxes can't deliver the luxury of premium, audiophile sound. Now, this already legendary XT Series line gets an important addition that also makes it more versatile than ever before.

First, it's a purpose-built, on-wall surround speaker that's a perfect timbre match to any model in the existing Cinema Ribbon line. It's also the only bi-pole speaker on the market to feature the benefits of dual, side-firing ribbons. At 400 watts per cabinet, the deliberate location of each pair of these high output ribbons create the wide "diffused" rear sound stage so important for today's soundtracks and multi-channel music. This fact is made more remarkable when you consider the CRM-2BIP's ultra-slim 3-5/8" deep profile. It's one of the lowest profile on-wall surround speakers of any type; as much as 50% slimmer than any comparable speaker. Add to all this a beautiful, piano-like finish, legendary High Back-emf woofers, and simple reliable installation, and you have all the rationale you need to consider the CRM-2BIP for your home theater.
SPECIFICATIONS
General

Shipping Info

Length

15.25 (Inches)

Width

7.5 (Inches)

Height

1.75 (Inches)

Weight

9.35 (Lbs)

Unit of Measure

Each

UPC:

844039007278

Master Pack Qty

2
Other Specifications

Frequency Response

80 Hz-40 kHz

Power Handling

25-400 W

Impedance

6 ohm  (nominal)

Sensitivity

90 dB

SPL (max)

117 dB

Size (H x W x D)

8.25" x 12.18" x 3.625"

Net Weight

8 lbs