A MUSICAL FAMILY
 
The TD 206 and TD 209 turntables are the younger siblings of the revolutionary, multiple-award-winning TD 309. However, they don't have to live in the shadow of their older brother. Both models are built using only high-quality materials and parts. And both share a number of technical features with the TD 309, ensuring that their replay quality is up there with the best.
The new TP 90 tonearm is based on the tried-and-tested TP 92 and uses the same ultra-low-friction, high-performance bearing and the innovative zero-stiction anti-bias system. The arm tube is made from rolled aluminium that is damped using RMR technology (reduced-modal-resonance), and the stainless-steel counterweight at the end of the arm tube is double-decoupled. Tonearm height, azimuth and overhang are useradjustable.
SPECIAL FEATURES
Low Noise, Low Voltage electronically speed controlled DC Motor
Adjustable belt tension for best performance
Two-part aluminium/acrylic platter
New TP 90 tonearm with precision Japanese bearings
Tonearm adjustable for VTA, azimuth and overhang
Made in Germany
Spinning With Style
You don't come across many companies that have been in business for 100 years. Founded in 1883 as a manufacturer of musical boxes and clocks, Thorens started building Edison-type cylinder phonographs in 1903 and has been making turntables ever since. Although the company branched out into audio electronics in the '90s, it remains a steadfast bearer of fine turntables. Its latest specimen is the ultra-modern TD 209, which borrows design cues from its higher-end sibling, the TD 309.
This belt-driven beauty comes with a pre-installed TP 90 rolled-aluminum tonearm, featuring precision Japanese bearings and a moving-magnet cartridge, making it ready for action within minutes of being unboxed. The triangular plinth is cut from a single piece of acoustically inert MDF and supported by three adjustable feet (which lack the spring-loaded suspension found on the pricier TD 309). The platter combines layers of aluminum and acrylic with a thin layer of treated paperboard in between for decoupling. The TD 209 uses the same servo-controlled DC motor and drive unit as the TD 309, and belt tension can be adjusted to fine-tune platter speed.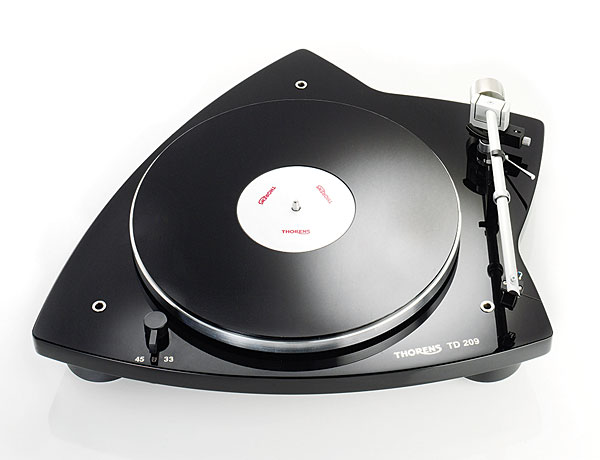 What separates the TD 209 from other tables in its class? CEO Heinz Rohrer says, "a lot of individual and small unique ideas"—starting with the tonearm, which closely matches the performance of the TP 92 arm used in the TD 309. The design was borne out of research on simple but effective methods for eliminating tonearm/tube vibrations and distortion. "Another important feature is the production method we use to keep friction in the gimbal bearing system to an extreme minimum," Rohrer adds, noting that a high-quality motor steering unit helps keep dreaded wow and flutter to a minimum.