Air Gap dielectric
By increasing the separation of the conductors inside the cable, and therefore the amount of air between them, QED has created a low-loss Air Gap dielectric. This technology halves the dissipation and capacitance characteristics of the cable, and results in numerous audible improvements - particularly where timing and rhythmic accuracy are concerned. Despite this increased separation, though, XT40i retains the sort of cross-sectional area that makes it ideal for long cable runs.
X-Tube technology
Forming the cable conductors into a tube-like shape around a hollow insulating rod in the center of the cable equalizes current densities, delivers very low inductance and presents a consistent, even load to an amplifier. The result is a cable that retains more of the finest musical details, that handles rhythms and tempos in the most natural and musically satisfying way, and that outperforms rival designs costing far more.
As QED Cable Brand rapidly closing in on its fifth decades at the forefront of speaker cable design, QED's brand new Reference XT40i speaker cable builds on the formidable reputation of the XT40 speaker cable it replaces and offers a decisive step up in sound quality.
SPECIFICATIONS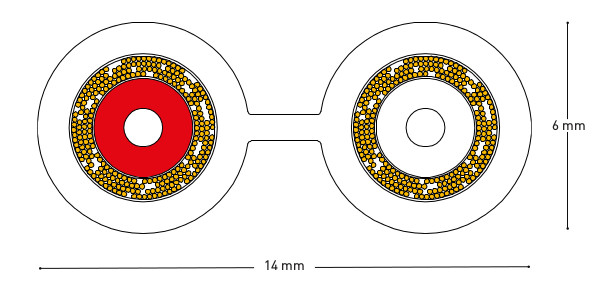 Outside diameter: 6 x 14 mm
Conductor area: 4 mm²
Dielectric properties: Air Gap (εr = 2.4)
Conductor chemistry: 99.999% oxygen-free copper
Dielectric properties: Air Gap
Loop resistance: 8.0 mΩ/m
Parallel capacitance: 35 pF/m
Dissipation factor @ 10kHz: 0.0295
Self-inductance: 0.57 μH/m
Gauge: 12 AWG
Stranded Diameter - 2.75 mm (min)
Suitable for ABS, Metal & Maxi Airloc